Who are we?
Podology is a family owned and operated business, based in Dublin. The garden pod company was founded in 2009 by Joe Lavelle.
We started off with just one style of Pod and have progressively added to the range over the years. We currently have eleven beautiful designs to choose from, so there is a style to suit every garden no matter how small or how large your garden is. We install the Pods all over Ireland, North and South.
In Ireland, owning your own house is a big part of the culture and with that comes your garden.
Podology aims to show people that your house and garden combined is what makes a home.
With a garden Pod the exterior can become an extension of the interior, and people
can enjoy their homes fully, regardless of the weather.
We stand over the quality of our Pods and are pleased to offer a 10-year guarantee. With the proper maintenance the Pods will last much longer than that.
Our team of fitters take great pride in installing each and every Pod.
Podology Garden Pods are Architectural by design, Contemporary by nature. With their curved shape they are aesthetically pleasing to the eye.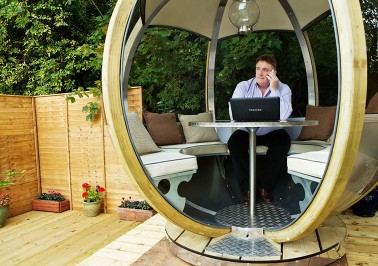 Because there is no requirement for planning, commercially the Pods have become a viable solution for many companies who have unused space either outdoors or indoors. The Pods are being used as, Marketing Suites, breakout areas, meet and greet areas, training and interviewing areas and for a host of other activities.
Hotels, Restaurants and Gastro Pubs are also expressing an interest as the Pods can be used to enable social distancing and have the potential to create an extra stream of revenue. The Pods are ideal for dining, coffee, business meetings, network meetings to name just a few. Many of the Pods can be customised with Audio Visual, Airconditioning, Company Branding etc.
In the last year, we have added a further three Pods to the range. For future developments keep an eye on our website www.podology.ie as well as on our social media – Facebook, Twitter and Instagram.
As for the future of Podology?
Going forward we are working alongside Easy Finance.ie. Should you wish to avail of finance to purchase your Pod you can do so at a very competitive rate.   We may have had to close our Showroom however Podology is most definitely open for business and we are busier than ever.